Nearly a century in the design and assembly of production equipment for the paint, ink, cosmetics and chemistry fields.
Created in 1920, Rousselle Industrie's initial mission was to design grinding machines for the agri-food and paint industries.
While conserving the spirit of its first creations that were made to be reliable and high performance, Rousselle Industrie's product line has progressively increased to serve the ink, glue and chemistry industries. At the same time, its range has increased to include blending and packaging.
Rousselle Industrie was able to integrate all the competencies required to offer an exhaustive and professional range of products to one of the most demanding fields: the cosmetics field. The quality and finish of this equipment specially designed for one of the worldwide leaders is thus a reference in terms of their know-how and reliability, which is available to all their customers.
OUR VALUES :


EFFICIENCY, RELIABILITY AND LONGEVITY OF THE EQUIPMENT, COMPETENCE AND REACTIVITY.
Rousselle Industrie stands out for its global approach; its know-how allows it to manage projects from A to Z, from the design and production all the way to commissioning. Its offer covers the entire production line in terms of blending, grinding, packaging and tank washing equipment.
| | | |
| --- | --- | --- |
| | 100% manufactured in France : | |
Rousselle Industrie's equipment meets the European safety standards and gives each customer an adapted and efficient response to their needs. Today, among the thousands of machines produced, some built in the 60s are still in operation today.
By cultivating the values that make up its strengths: direct contact, know-how, reactivity and drive, Rousselle Industrie team's objective is to obtain their customers' entire satisfaction and guarantee an effective service in relation to assistance, maintenance and commissioning on site.
| | | |
| --- | --- | --- |
| | AN INTERNATIONAL PRESENCE | |
I

ts presence stretches abroad with a large amount of equipment produced in Africa, in North Africa and even in Madagascars :
Outside of Europe: Kazakhstan, Saudi Arabia, Oman, Brazil, Chile, the West Bank.
In Europe: Belgium, Luxembourg, Poland, Italy, Spain.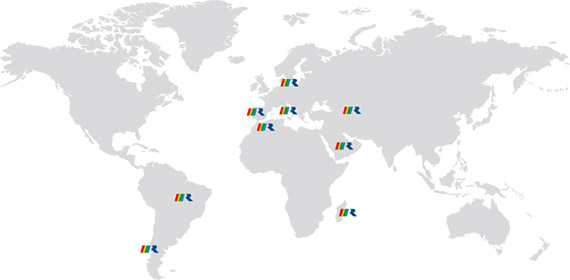 above the international presence of ROUSSELLE INDUSTRY
A CUSTOMISED SOLUTION THAT IS ADAPTED TO SPECIFIC NEEDS.
Rousselle Industrie is able to adapt its standard equipment to specific requirements and meet all of its customers' production needs.
Its in-house design department and its network of specialized partners give Rousselle Industrie an industry leading amount of know-how and increased reactivity that results in an offer that is tailored to size.
Rousselle Industrie is thus capable of managing global integration requirements for equipment for a complete production workshop system or even for a turnkey factory project.